The Blended intensive programme "Patient oriented Care" at the Faculty of Health Care of Vilnius University of Applied sciences started. It will last till end of April 2022. The programme is organised by the Faculty of Health Care together with partners from Belgium (Free university Ilja Prigogine Brussels) and Latvia (Red Cross Medical College of Riga Stradins University). During the first meeting, 25 students got to know each other, divided into teams and learned the requirements of the first task. These are just the first steps; many useful and fun moments are still to come.
BIP organizators:
Vilnius University/UAS Faculty of Health Care vice dean dr. Jurgita Kazlauskienė
Vilnius University/UAS Faculty of Health Care ERASMUS coordinator Viktorija Kielė
---
My practice at Cerrah Pasa Hospital in Istanbul, Turkey
In my opinion, there is no more colorful city than Istanbul. This city has certainly captured the attention of foreign students, and mine too, and I have never once regretted choosing the colourful, fabulous and warm-hearted city of Istanbul for my Surgical Nursing Practice. I can't hide the fact that I was very worried  for the first week. This is the first time I've ever gone somewhere alone. I was worried about whether I would be able to find like-minded people, good acquaintances, and be able to get along. But after a few days, all my doubts evaporated. Istanbul people are very friendly, always there to give advice and help, even if they don't speak or understand English very well (which is very common), they will always try to use a translator and won't leave you in the lurch.  For your own peace of mind, I would advise you to learn a few words of Turkish , and you will certainly surpass the rest when working in a hospital with locals.
It is easy to get lost in Cerrah Pasha Hospital, the surrounding area is indescribably large, and not only locals but also people from other cities and sometimes other countries come to this hospital for treatment. Istanbul residents say that this hospital is the best in all of Istanbul, with specialists in all fields of medicine. I did my surgical nursing internship in intensive care with post-operative patients. I gained a lot of experience there. I saw how post-operative patients are cared for, what medicines are allowed, what procedures are used. I was able to fill in nursing sheets independently. On Tuesdays and Thursdays I would go to the operating rooms and observe many different operations, and the surgeons would always explain what kind of operation was being performed and what technique was being used. I was allowed to observe all the operations I wanted to go to.
I would like to express my gratitude to the staff at Cerrah Pasha Hospital and to the team that worked with me every day. All my questions were answered. They took great care of me and always asked me if I had any questionsThey also wanted to know if I could come again, and I feel that I would really like to and I miss them already. If you also want to learn a lot, gain a lot of experience and make some great friends, go to Istanbul. I am sure you will not regret it.
Julija Burlakova, student at Faculty of Health Care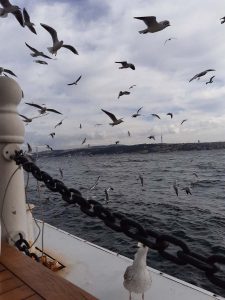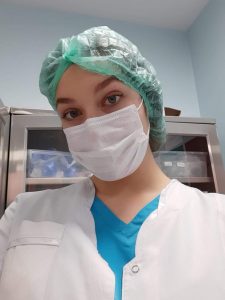 ---
Impressions of Kristina Bevainytė and Gintarė Budrytė, students who completed an internship in Finland under the Erasmus + program:
"We, Kristina Bevainytė ir Gintarė Budrytė, are the 3rd year SL17B group students of the study program "General Practice Nursing" of the Faculty of Health Care of Vilnius College. We have been dreaming about participating in the Erasmus program since the first year of studies, but we were afraid to take part because of the language barrier. Finally, in the third year of studies, we decided to participate in this program and we are really satisfied with our decision. It was a great opportunity for us to step out of our comfort zone, gain knowledge, improve our English language skills, and gain more confidence.
Our internship location was Mikkeli, Finland. We trained at the central hospital in Mikkeli. Kristina practiced in the surgical and neurological and orthopedic rehabilitation wards, and Gintarė practiced in the therapeutic ward, which included patients with lung, heart diseases, etc., also in the dialysis and orthopedic wards. Six weeks later, the internships changed for us, and Kristina practiced at the Vuolingonhovi elderly people nursing home for two months, and Gintarė practiced at the Saimaanharju basic care health treatment center for one month and the Graanin Palvelukeskus nursing home the next month.
One of the biggest problems was that we did not speak Finnish, which made it difficult to work independently, but after 3,5 months we learned some Finnish words that helped us a lot in communicating with patients during traineeship. Also, all the people we came across during the trip, including the staff of the medical facilities and XAMK University, were very kind and always willing to help and answer any questions we had.
We did not have much free time and due to the pandemic it was not recommended to travel around the country, so big advantage for us was that even during the pandemic, we were allowed to do all the internships, which our group members could not do in Lithuania. During this internship we gained a lot of knowledge, experience, new friends from different countries and overall general development. So, we encourage everyone to take part in the Erasmus program, because it very good opportunity to gain a lot of experience not only as a student but also as a developing individual.
Kristina Bevainytė ir Gintarė Budrytė,
SL17B group students"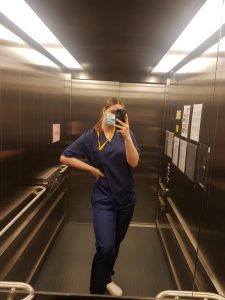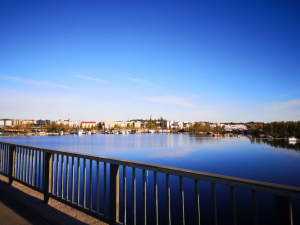 ---
On March 4, 2020 Marina Redondo Santamaria, a student of General Care Nursing study program, came to Vilniaus kolegija/University of Applied Sciences, Faculty of Health Care, from the University of San Rafael-Nebrija (Spain) under the Erasmus + exchange program. The student will have clinical placements in Vilnius health care institutions until June 5, 2020. The student will be supervised by Assoc. Prof. dr. Agnė Jakavonytė-Akstinienė (in the Faculty).
We wish Marina the best of luck!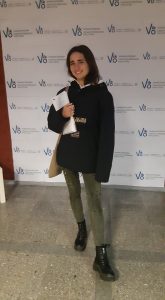 ---
Hello to everybody,
My name is Urma Santana, I am from Canary Islands (Spain), I spent February and March, 2018 in Vilnius (Lithuania) doing an internship as a nurse in two hospitals with Vilniaus Kolegija/University of Applied Sciences. It was a great experience, I improved my knowledge (and of course my English!), nurses and doctors were so nice with me and they helped me in some many ways. On the other hand, Vilniaus Kolegija is a wonderful institution, they oriented me and helped me anytime I needed it. I am so thankful, they made me feel as at home. My mentor, Laura, she is an incredible person, she was my bright light, she was there any time I texted her asking for some help.
To sump up, this experience was so good for me, as a nurse and as a person, Lithuanian people treat me in a very kind way and I will be always grateful. I recommend for any student to have this possibility and not to lose it, they won't regret!!
Thanks to Vilniaus Kolegija, nurses, doctors and my mentor.
See you soon!!
Urma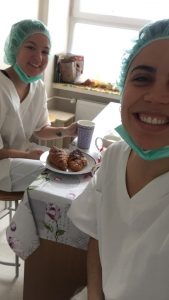 ---
A delegation from Tallinn Health Care College visited Health Care Faculty on November 16-17, 2017. On the first day of the visit members of the delegation Ülle Ernits, Ulvi Kõrgemaa, Ave Perve, Piret Gilden and Eve Epner, accompanied by lecturer Gabriele Turlinskiene, visited Vilnius City Clinical Hospital. The next day the guests had a faculty tour led by Viktorija Kielaitė, Erasmus+ coordinator, and got acquainted with the study programmes offered by the faculty. Later the partners had a meeting with the faculty administrative staff and lecturers teaching students of General Care Nursing and Occupational Therapy study programmes. During the meeting Eve Epner ir Ülle Ernits told about Tallinn Health Care College.
Afterwards the delegation from Estonia had a meeting with Jolanta Preidiene, Head of International Relations Department. In October 2017 Vilniaus kolegija/UAS and Tallinn Health Care College signed a bilateral agreement which allows students of the study programmes General Care Nursing and Occupational Therapy enjoy the benefits of Erasmus+ exchange programme.
Viktorija Kielaitė,
Erasmus+ programme coordinator SPF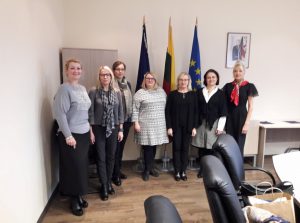 ---
In the autumn of 2017 the "Crown Care" institution in the United Kingdom provided the placement for professional training of "Final practice" for Lina Skiauterytė, a fourth year student of "General Care Nursing" at University of Applied Sciences, Faculty of Health Care. The student had the opportunity to deepen theoretical knowledge gained during lectures in nursing studies and apply them in practice. The experience of clinical practice in the international team has given student L. Skiauterytė the opportunity to apply biomedical knowledge and gain valuable work experiences in a multicultural environment. The student is grateful to the Lecturer of the Department of Nursing Viktorija Kielaite and to the Head of the Practical Training Department Dr. Simona Paulikienė for help and support. Lina advises all nursing students to catch the opportunity to go abroad using Erasmus programs and don't stop to go ahead!
Viktorija Kielaitė,
Erasmus+ programme coordinator SPF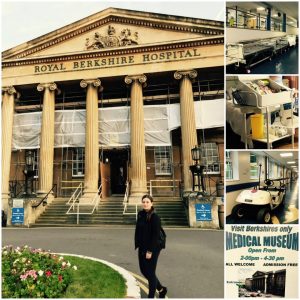 ---
On March 13, 2017 two students enrolled in the study programme General Care Nursing Laetitia Dubroca and Nathalie Fragnier from IRFSS La Croix-Rouge Francaise De Toulouse Higher School (France) visited the Faculty of Health Care.The students have practice placements with Vilnius City Clinical Hospital and Baltic-American Clinic from March 13 to May 21, 2017. The students will be supervised by Gabrielė Šarkytė, lecturer of the Nursing Department.
Viktorija Kielaitė,
Erasmus+ programme coordinator SPF
---
On February 1, 2017 five students from two different universities of Spain (San Rafael Universitad Nebrija and Escoles Universitares Gimbernat), enrolled in the study programmes General Care Nursing and Physiotherapy, visited the Faculty of Health Care. They have practice placements with   the Intensive Care Unit of Vilnius University Hospital Santariškių Klinikos, Children's Hospital, Affiliate of Vilnius University Hospital Santariškių Klinikos and Valakupiai Rehabilitation Centre. The Spanish students will be supervised by Milda Kuskienė, lecturer of the Nursing Department, dr. Milda Žukauskienė, Head of the Rehabilitation Department, and Kristina Žukienė, lecturer of the Rehabilitation Department.
Viktorija Kielaitė,
Erasmus+ programme coordinator SPF